About Us
Established in 2008, we, Taj India Machinery, are a manufacturer, exporter and supplier of high quality Hinges polishing machine, SS door handle polishing machine, Automatic grinding machine, Polishing Machine, SS Polishing Machine, Lancer Machine and other hardware polishing machine. In addition to these products, we also supply Stainless steel Metal Sheets buffing machine, semi automatic grinding and polishing machine, Double spindle fork neck polishing machine, etc. With years of constant efforts, we have accumulated profound experience in this filed. We develop our products using the best production methods and quality tested raw materials.
It is our constant focus on excellence that leads us to release an unparalleled range of products in the marketplace.
Right from the purchase of raw materials to the development of the final goods, we carry out each business operation in congruence to the industrial quality norms. Our team utilizes the available resources, downsize the operational costs and manufacture the products as per the customer's needs. It is completely aware of the contemporary trends of the market and industry. The knowledge and experience of our team members enables us to offer products that meet clients' expectations. Clients' value our machines for their space saving designs, optimum performance and long functional life. While our other products are admired for their rust resistance, reliability and economical prices. We supply our products to the customers on time and do our business with complete transparency. Over the time, all these factors assisted us to establish our credibility in the markets.
Our Core Competencies
Market Credibility
High Quality Products
Efficient and Qualified Workforce
Customer Focused Approach
Our Production Expertise
Owing to our profound experience, we know how to adopt the advanced technologies for manufacturing premium quality cutlery polishing machine,Hinges and SS door handle polishing machine, and other hardware polishing machine, Stainless steel Metal Sheets buffing machine, semi automatic grinding and polishing machine, Double spindle fork neck polishing machine and other products. Each product that we supply is made considering the customer's demands and using quality tested materials. We also upgrade our products on a regular basis as per the market advancements. We welcome client's suggestions about the products. Their recommendations for special designs is also kept in mind during the production process. Due to our expertise in production, we are competent of offering products that meet the clients' absolute satisfaction.
Our Products
We are
manufacturing, exporting and supplying:
Cutlery polishing machines

Tools polishing machines

Hinges and door handle polishing machine

Stainless Steel metal sheet buffing machine

Single Spindle cutlery deep polishing machine

Double spindle cutlery neck polishing machine

Manual lancer (Belt Grinder)

Square SS pipe polishing machine etc.
Quality Assurance
For us, quality is the prime factors that has boosted our growth in this industry. We maintain quality at all levels of production, starting from the selection of materials to the manufacturing of products. To ensure quality assurance at all levels, we have assembled a team of quality experts. They make the best utilization of their experience and expertise to test the end products on the basis of different quality parameters. As a result, only an unmatched range of products leaves our premises.
View Certifications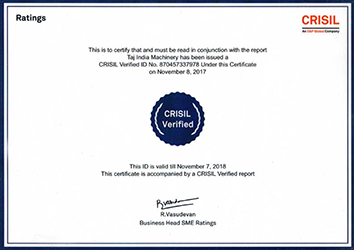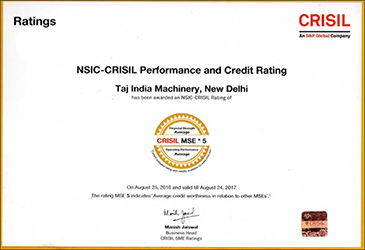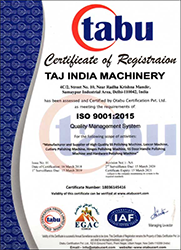 Read More